There are 1.5 billion+ active windows users in the world. As daily windows users, productivity apps are always crucial for working more efficiently and staying focused. Not only that, there are plenty of benefits of using productivity apps.
7 benefits of using productivity apps:
Increased efficiency and productivity: Using a productivity app can ensure that you use your time more efficiently and effectively.
Improved time management: Productivity apps can help you to better manage your time by keeping track of your tasks and deadlines.
Easy to organize your workflow: Productivity apps can help you manage your tasks and to-do lists better.
Better focus and concentration: Productivity apps can help you stay focused on your tasks by blocking out distractions and helping you stay on track.
Better decision making: Productivity apps can help you make better decisions by providing data and insights.
Enhanced creativity: Good productivity app can help improve your creativity by providing new ideas and perspectives, allowing you to come up with new ideas and lead to more creative solutions.
Greater satisfaction: A productivity app can help you feel more satisfied with your work by helping you achieve your goals, leading to a greater sense of accomplishment and helping you enjoy your work more.
There are a lot of productivity apps available, so it can be challenging to know which ones are worth trying. To help you out, we've compiled a list of the best productivity apps for Windows PCs. These apps can improve your workflow and help you get more done.
10 Best Free & Open-Source Productivity Apps/ Software for Windows
01. ShareX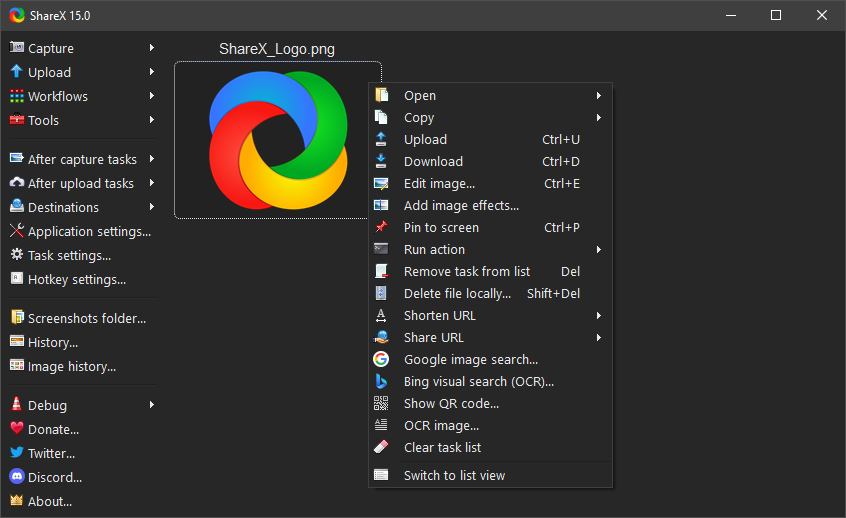 ShareX is a free and open-source program that lets you capture or record any area of your screen and share it with a single press of a key.
If you spend most of your time in front of your PC and work with teams/ create content, you may use the Windows default screenshot capture application "snipping tool" more often to take screenshots. But, this tool consumes a lot of your time to open and close it whenever you need to take a screenshot, while it comes with minimal features.
ShareX is a next-level screen capture software that helps you take screenshots, record animated GIFs, upload and shares files with your teams or anywhere you need very quickly.
It also comes with a handy feature that many other screenshot apps do not have: optical character recognition. You can take a picture of some text, pull it out, and put it right on your clipboard with optical character recognition. So, you can then paste it into your note-taking application.
02. QuickLook
QuickLook is a software tool that allows you to view files without opening them. QuickLook is built into Mac OS and can be used to preview a wide variety of file types, including images, documents, and movie files.
QuickLook is sadly absent on Windows. But, luckily you can download QuickLook for windows as a third-party app via the Microsoft store.
You can use QuickLook by clicking on any file you need to preview and just hitting the space bar to preview it. With QuickLook, you can preview videos, images, animated GIFs, photoshop files, PDFs, Text files without opening them.
QuickLook is an excellent software to preview your files without opening them directly.
03. Notion
Notion is a powerful yet easy-to-use, all-in-one productivity tool/ project management software that helps you manage your work and life. With Notion, you can create to-do lists, track progress on projects, and organize your information in various ways.
Notion also makes it easy to share your work with others and collaborate on projects whether you're a student, a professional, or just someone who wants to be more organized and productive.
You can access and use Notion from their web application interface or download their desktop application directly to your PC.
04. Everything
Everything is a simple and free utility that lets you search your files and folders in Windows because sometimes Windows's file search and folder search is very slow.
But Everything indexes your hard drive and lets you search anything pretty much instantly.
05. Microsoft PowerToys
PowerToys is an open-source Windows app packed with a set of utilities developed by Microsoft to help windows power users to make their Windows experience more fantastic.
With PowerToys, you can add many extra functionalities to your Windows PC without installing third-party applications. Some of the valuable functionalities PowerToys offers are powerful window tiling/layouts, key/shortcut remapper, OS-wide colour picker, file explorer upgrades with file previews and group renaming, etc.
06. Clipboard Manager
Clipboard manager is a built-in tool to copy and paste stuff more often. But the main problem with the regular clipboard is it remembers the last thing you have copied.
But, do you know that Windows has a "clipboard history" feature, which helps you see everything you have copied. So, you can go back and paste something old, which is what the clipboard history does. So, if you want to turn it on, all you will need to do is hit Windows Key +V and click turn on, and you can even sync your clipboard history across devices if you want to.
07. Flow Launcher
Flow launcher is an open-source quick search bar application that helps you search across your PC for any program, bookmark, sticky note, files, youtube, Twitter, etc. You can even do calculations without opening your calculator app using the Flow Launcher. In addition, you can do google searches, control and search on Spotify.
Instead of browsing through many files and applications to find a program/ file you need to use, you can hit ALT+Enter and search anything across your windows PC to find it in seconds with the help of Flow Launcher.
Flow launcher comes with many handy features that help you be more productive and faster with your workflow. So, it will surely help you simplify your Windows activities.
08. Espanso
Espanso is a text expander app that you find very useful if you often find yourself typing the same long strings of text like your email address or common URLs. The best thing about Espanso is it is also a free and open-source app for Windows.
Espanso is helpful to type everyday things faster and easier if you are someone who is doing a profession that you have to type the exact text repeatedly.
With Espanso, you can define short key snippets that automatically expand into that longer snippet of text when you type.
09. Dimmer
Dimmer is a free tool for Windows that helps you protect your eyes, improve your sleep by reducing the brightness of your monitor, screen or display.
Screen Dimmer is an excellent tool if you are working in a near/ total darkness area and if you find the minimum brightness of your monitor is still too much for your eyes.
It supports managing/reducing the brightness of multiple screens and monitors simultaneously. If you want to stay healthy and protect your eyes while using your PC, you can download dimmer.
10. WorkRave
WorkRave is also a free and open-source app for Windows that helps you in the recovery/ prevention of RSI (Repetitive Strain Injury).
WorkRave alerts you to take micro-breaks/ coffee breaks/rest breaks and restrict you to your daily limit.
It alerts you to take micro-breaks between every 3 minutes by default. You can customize its default time ranges after installing WorkRave on your PC. If you can use WorkRave and Dimmer, these two apps work well as a pair, and you can prevent many common health issues many computer operators face.
So, we hope you have been able to find the best productivity apps for your Windows PC. Which ones are your favourite? Do you know any other free productivity apps/ tools for Windows? Don't forget to comment below 🙂